I'm linking up with Kristin for baby talk!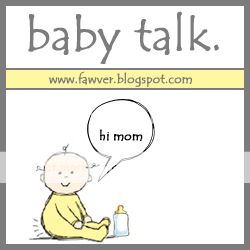 When I got pregnant, and again we I found out we were having a girl, I couldn't help but thingk about one thing: her clothes.
Oh, the cuteness my baby would wear.
Then I started looking at them in stores. they're deceiving, those cute little outfits. $8 here, $10 there, $6 somewhere else, and before you know it, you've spent a good chunk of your paycheck on a few months' worth of clothes. Not good.
Let's face it, no matter how cute I make Abbie's outfit, there's a good chance she's going to spit up on it. Or pee on it. Or have a blowout. On top of that, she grows out of things so quickly. So I did what any frugal mom-to-be would do – I looked for cheaper options.
My first stop didn't take much thought. My old elementary school in my hometown holds a used clothing sale twice a year. My mom had spent some time on the committee and volunteering when I was younger, so that was the first thing we thought of. Plus, when you volunteer to work the sale, you get to shop the night before! We went when I was 7 months pregnant and stocked up. From that sale, Abbie was completely set through 3 months, and we picked up a lot of bigger things too. Prices range from $.25 to about $8 at the highest, but most things are $3 or less. I got a lot of great, quality things, and am so happy I took the time to volunteer and shop the sale. When it was held again last month, our move prevented me from volunteering, so I didn't do as well – shopping early is definitely the key!
This was one of my favorite finds. Isn't the elephant too cute? Makes me sad she outgrew it!
Of course, there are other ways to find used clothes. A friend of mine found out she's expecting pretty recently, and is heading out to a huge yard sale this coming weekend. Abbie's going to need 9 and 12 month clothes before I know it, so I may tag along.
Another option (and one I haven't tried yet) is consignment shops. There are a few in our area, but I haven't had a chance to go yet. A quick google search also turned up some online consignment shops, so that's an idea too.
I'm always on the lookout for other items at these sales and shops too – at the used clothing sale I scored an exersaucer and a playmat for Abbie for only $10 each.
I've also signed up for the mailing lists for my favorite baby clothes brands – especially Carters. Abbie could wear Carters all day – everything is so darn cute! They were running a 50% off sale a little while back and we stocked up!
Carter's sale anyone?
What do you do to save money on baby clothes? Any other tips?