Linking up with Kristin for Baby Talk today!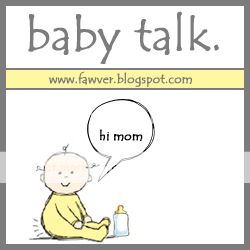 Becoming a parent is a life-changing event in any family, and you never quite know what to expect….
Unless you're like me, and have three significantly younger sisters.
My sisters are 9, 10, and 13 years younger than me, so I remember them being babies, toddlers, little kids, and now young adults. They're a pain in the butt sometimes, but I love them. And luckily, they taught me a lot about parenthood. Here's just a few of the things they taught me…
Sometimes babies cry for no reason, and it'll all be okay.
ALWAYS put your hair up around a baby. They will grab it.
Little smiles are the best smiles.
You'll never forget the way kids say your name. For the longest time, my sister Rachel couldn't say "Jessica," so I answered to "Ca" for a few years….
They will break your stuff. You will get over it. (Maybe…)
You'll be surprised by what they do and don't need help with.
All too soon, you'll be wondering where those little girls went, and where this attitude came from.
Teenagers don't have babies for a reason. I babysat and that was enough work!
You are so proud whenever they do or learn something new.
They become your whole world. I don't know who I would be without my sisters in my life.
Obviously, there are millions more things my sisters taught me to prepare for motherhood – I changed countless diapers, gave bottles, cuddled…but despite everything they taught me, they couldn't teach me everything. Abbie gets to teach me even more. Every child is different, and you never stop learning.
Plus, my sisters make pretty cool aunts.
Auntie Andrea
Aunt Melanie!