Today I'm linking up for baby talk!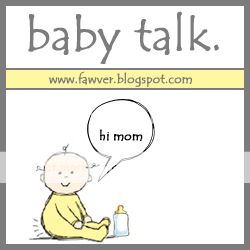 When I opened up for questions a few weeks ago, one of the things people asked were our plans for Abbie's birthday. Let me first say that I'm astonished it's just about here! I can't believe that it's been almost a year since our little girl entered our lives.
Since we live in a townhouse, our first thought was where to have her party. While we could have it at home, we would need to rent tables and chairs since we don't have enough. The stairs would also prove problematic for all the children around. Instead, Chris did some research, and we'll be having it at Frying Pan Park!
In addition to the farm, the visitor center has rooms you can rent out, so we'll be having her birthday there. The room's big enough for all the people we're having, and it'll be nice to just set up and clean up one room.
As for the theme? Chris' idea again – Winter ONEderland!
Follow Abbie's 1st Birthday by Jess Beer on Pinterest
Our colors are purple, gray, and white, and there will be lots of snowflakes around…which will then become extra holiday decorations. I call that win-win. We're still working on the food, but so far we're planning on a smash cake and cupcakes, a hot cocoa bar, and lots of finger food. As it gets closer, I'm definitely getting excited!