Linking up with Kristin for Baby Talk!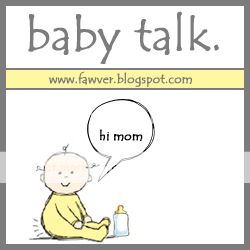 When I was pregnant, I made a decision a lot people thought was crazy – I decided to cloth diaper. My friends told me it wouldn't work. That I'd hate it. That I would have to touch a lot of poop. That I would end up going to disposables and it would be a big waste of money for us.
Well, they were ALL wrong.
I'm happy to report that we LOVE cloth diapering. And to refute those people? I really haven't touched much poop. I thought I'd share what we're using and what works for us, in case I can inspire someone else to go cloth!
When Abbie was born, we actually did use disposables for the first month of her life. We knew we'd be adjusting to life as new parents and it would be unpredictable, so we kept it as easy as possible for that first month. Right around her one month birthday, Abbie's newborn diapers started to leak – she was getting too big for them! Since I felt like we were ready, we started cloth diapering!
Since then, Abbie's been in cloth almost exclusively. We do keep one package of disposables of her current size in the house for emergencies, but have rarely used them (mostly if she went through all her diapers fast and they're in the laundry). We did use disposables on our recent trip to NY as well, but otherwise? All cloth, all the time. We were even fortunate to find a daycare provider that was happy to use our cloth diapers – not an easy task.
To keep things simple, we opted to use pocket diapers – the Bumgenius 4.0s. While I looked at a lot of different brands, I chose to keep to one brand for our convenience and to make it easy on daycare – I didn't want her to have to figure out different types of diapers, since their adjustments and closures are different. I purchased our diapers throughout my pregnancy, taking advantage of sales where I could. A lot of my orders were through cottonbabies – they run specials pretty often. We have 26 diapers, and they just adjust in size as she grows.
In addition to cloth diapers, we use cloth wipes. You can make cloth wipes pretty cheaply from receiving blankets or flannel…but I was lazy and just bought them. We have 30 cloth wipes that we then wet with a homemade diaper solution of 1 part baby wash, 1 part baby oil, and 4 parts water. If I have some California Baby Diaper Area Wash on hand, I sometimes pour a little of that in as well, but I'm stingy with it since it's pricey! We keep the wipes dry and wet them as we need to with a spray bottle.
Dirty diapers go in the pail lined with a cloth liner. We spray off any solids in the toilet first with our diaper sprayer, then spray all of Abbie's diapers with BioKleen Bac-Out Stain and Odor Eliminator before putting it in the pail. I bought one in a spray bottle but now just buy it in the gallon size and refill as needed.
In addition, we stuff extra inserts into her diapers at night, since we rarely change her overnight. I put in the regular microfiber insert, a hemp one, and an additional microfiber insert. It's worked great so far!
For daycare, we send 5 diapers prepped and ready to go, a full container of wipes, a spray bottle of wipe solution, and a wet bag to send the diapers back in. So far, Abbie hasn't ever run out of diapers at daycare.
When Abbie was younger, we ran the diaper laundry about every third day. Now that she's older, she goes through fewer diapers in a day so we can get away with doing laundry twice a week. We run it on Sunday and Wednesday. We use Rockin' Green detergent in Classic Rock Bare Naked Babies. I've heard that other brands work well too…but I figure if it's working for us, I'll keep using it. Not fixing what isn't broken!
Our wash routine:
Cold Rinse. For this, we leave the inserts in the diapers. This way the poop gets rinsed away and we don't have to touch it much. (See, avoiding touching the poop!) We put everything in the wash, including the pail liner, and any wet bags that need to be washed.
Hot Wash. Before we start this, we pull all the inserts out of the pockets so we make sure they all get cleaned thoroughly. Then it gets 2-3 tablespoons of Rockin' Green and we start it.
Dry. We put the inserts, wet bags, wipes, and pail liners in the dryer on high heat. We dry the outer pocket shells on a drying rack. You can put them in the dryer, but I've read that air-drying them prolongs their life. They really dry pretty fast, so we haven't needed to put them in the dryer.
Washing Notes:
If we're trying to decide what size load it is, we always err to the larger one – with diapers, it's better to have more water than less.
We have a conventional top-loading washing machine.
We don't really worry about stains, but a good way to get rid of them is to lay your diapers in the sun – it bleaches them naturally!
Occasionally. I do a soak of the diapers before I run the wash. This helps eliminate any ammonia smells that may build up. I just do the rinse, then soak for about an hour with 3 scoops of Rockin' Green before running the Hot Wash.
All Our Gear:
Now that we've been cloth diapering for 7 months, I can't stand disposables. We have had maybe 5 leaks in cloth diapers ever, in using them 99% of the time. Offhand, I can think of 10 blowouts in disposables for that 1% of the time. Big difference! I encourage anyone that's thinking of cloth diapering to give it a try. It's been a great system for us, and the best part is when we get to baby number two (not anytime soon folks), he/she will be able to use these diapers as well! (Except if we have a boy next, I'll probably buy some more non-girly ones!)