Linking up for Five On Friday!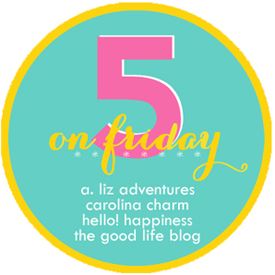 ONE
Did you know there's an 8-10 month sleep regression? I sure didn't…until it hit and Dr. Google told me. Abbie's been waking up 2-3 times a night all week, and for no reason other than needing comfort. I'm a tired Momma.
TWO
Abbie is crawling like a maniac, especially when she spies something she wants. The other day she went back and forth across the living room twice chasing my cell phone! Turns out she only wanted to chew on the case though…
THREE
Abbie's new favorite food is pickles! I gave her one yesterday and girlfriend went to town on that thing! By the time she was done, all that was left was the skin!
FOUR
A friend of mine just got some potentially sad news about her father's health – I'm praying for her and hoping everything turns out okay.
FIVE
The weather has been GORGEOUS here lately – 70-80 degrees! I love that it's finally cooling down, and I hope it keeps up! It makes me so ready for fall (and football of course).
Have a great weekend!