Time to link up for Five On Friday!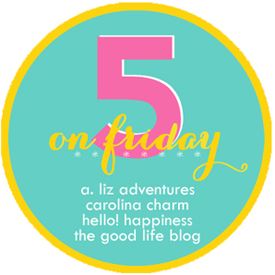 One:
Abbie's sleep started to get bad again, so Chris and I made the decision to start sleep training.  We're doing the Ferber method (cry-it-out with the ability to check on baby in progressively longer intervals).  Last night went ok – not that much crying and she was asleep within 20 minutes.  I'll let you know how it all goes!  There's no reason she shouldn't be putting herself to sleep and sleeping through the night at 8 months.  Fingers crossed!
Two:
I am so excited college football is finally back!  We kick off our season tomorrow, and you know I'll be cheering for my Hokies no matter the outcome!
Three:
This 3 day weekend is MUCH needed.  We're trying to have Chris' brothers and sister-in-law over on Monday – they haven't really seen Abbie crawling yet.  I know they'll be amazed at how fast she is!
Four:
I currently have about 10 books out of the library between physical books and kindle books…I need to get reading!
Five:
I can't believe Nichole's wedding is 8 days away!  I'm hoping everything falls into place just how she wants it to.
Have a great weekend!