This post is sponsored by SUDAFED® Brand, but as always, all opinions expressed are my own.
I don't know about you guys, but I'm so glad spring is finally on the horizon. Winter has been rough on me, and I'm not just talking about the cold weather. Every year, I battle sinus pain and pressure, which inevitably leads to me getting a sinus infection. Pregnancy did something to my sinuses – ever since Abbie was born, I've been especially prone to them. I can't even count the number of times I've needed help with the sinus pressure, and my first response has always been SUDAFED®.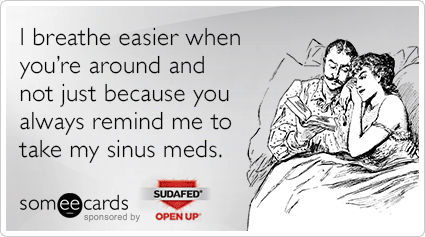 Now, I know you all read the little disclosure at the top. You know this post is sponsored. But let me tell you – I was really excited to see this opportunity pop up in my email. Why? Because I've been using SUDAFED® products for as long as I can remember. My mom recommends it. My doctors have recommended it. I recommend it. SUDAFED® products have always been my first response to attacking sinus congestion and pain so I don't miss out on what's going on in my life.
Because that's the worst part, right? You feel awful, and then you've got to miss out on fun things with your friends and family because of it? Double whammy there (anyone else remember the game show with the whammy or is that just me?). It's no fun, which is why the first thing I've always reached for is SUDAFED®. It works. It's the only thing that works for me, and if I get it fast enough, I don't miss out on anything.
I don't miss fun things like birthday parties.
Or taking Abbie outside to play.
Or hanging out with my girlfriends.
Or date nights.
That's what I want to be doing with my life. I don't want to suffer from Fear of Missing Out (#FOMO). Why should I miss out on all that? That is what my life is about, not being stuck inside with sinus congestion. Taking SUDAFED® has always been the first thing I've done – because it works.
Now, what do I wear for said date night?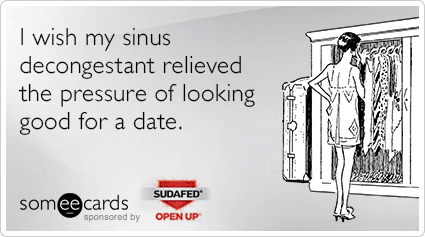 I don't know about you, but I love ecards – make sure you check out more of the SUDAFED® ones here and on their Facebook page!)