I don't know about you, but I'm ready for the weekend!  Here we go!
ONE
We found out yesterday that our house contract was ratified!  Now we move on to signing tons of paperwork, scheduling our inspections, the appraisal, etc.  I think I got about 6 house emails in the span of about 20 minutes.  SO much to do!  That said, we're scheduled to close on 8/27 and are planning to move the following week.  Fingers crossed!
TWO
I'm getting so excited about all things fall that are on the horizon…football's almost here, fall fashion is coming out, and I'm ready to pull out all my sweaters and maybe get a pair of boots for this year.  Plus, that means all my favorite holidays and events are on the way!
THREE
This kid LOVES our cats.  Seriously, all day everyday she tries to kiss them…and once tried to pick Mischief up.  No Abbie, not quite yet…
FOUR
We had a bit of a crazy day yesterday, so we ended up going out to dinner.  Thankfully, Red Lobster is super easy to eat well on – Fresh fish, steamed veggies, a baked potato, and salad for me.  Plus, I only ate ONE cheddar biscuit…and that's an accomplishment in itself!  Of course, Abbie devoured her mac and cheese.  She's definitely my kid.
FIVE
In addition to linking up for Oh Hey Friday, I'm also co-hosting Fresh Face Friday over on Casey's blog.  (Link up will be up shortly) If you're not reading her blog, you totally should – she's so genuine in her writing and her personality always comes through.
Welcome to the
FRESH FACE FRIDAY BLOG HOP!
Rules for hopping:
1| Follow your host & co-hosts (first 3 links), pretty please!
2| Link up your blog's homepage or Bloglovin' page.
3| Hop around, meet new bloggers, and leave them love!
4| Have fun? Spread the word and share this blog hop with your friends!
5| Want to be a co-host? Click here for more info!
Grab a button and share the blog hop love!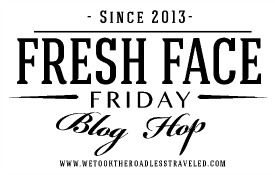 Tweet about this blog hop!
Tweet