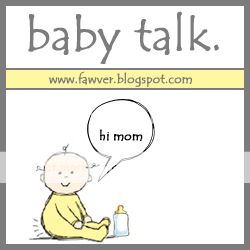 I have three friends that are expecting babies in the next month. There are so many bloggers I follow that either just had a baby or are expecting. At a shower I went to recently, each guest was asked to give the mom-to-be a piece of advice. My advice?
It's ok to cry.
Being a new mom is overwhelming. If you're breastfeeding, you wonder countless things about your body and baby (Am I making enough milk? Is her latch ok? Are my nipples EVER going to heal? Why won't the pump work?). You wonder if your baby is gaining enough weight. You wonder how she just had another dirty diaper when you changed her five minutes ago. You wonder if you're ever going to sleep again. If baby is ever going to sleep longer than two hours. If cluster feeding is going to last all night.
It's ok to get frustrated, and it's ok to cry.
To be clear, I'm not talking about post-partum depression – I believe that's a serious condition that so many women need help with. I'm talking about when it's 3 in the morning, you haven't slept in hours and hours, your baby won't stop crying, your husband or partner seems to be sleeping through it, and you literally don't know what to do. I had those nights – nights where you sit on the floor and cry along with your baby and let all that frustration out.
And then you get up and figure it out. You get through all the uncertainty to the other side. Your baby starts sleeping better and eating better. Your nipples heal, or you figure out how much formula she needs. You learn to tell when she's done filling her diaper and when there's more on the way. You learn how to soothe and comfort her.
Sometimes I think about the couple of nights I cried…and know that I grew so much as a mom in those moments. I learned to let go. I learned that sometimes it's necessary to take a moment for yourself, and you shouldn't feel bad about it. The pressure to be the perfect mom is pretty much all self-inflicted. Your baby isn't expecting you to be perfect – she's expecting you to be her mommy.
I admit, it's an odd thing to tell a soon-to-be mom – that they're going to cry about it? No one wants to hear that, and I think that's why no one says it. Everyone wants to think of it as joyful and happy, but tiring. Motherhood is all those things…but it's also the hardest thing I've ever done.
So it's ok to cry – it'll all be worth it.