Linking up with Kristin today for Baby Talk!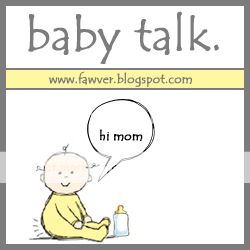 Now that I'm over 7 months into being a mom, Abbie's learned a lot, and definitely taught me some things about herself, and about babies in general. I thought I'd share a few random Abbie facts:
One: Abbie can't blow her nose yet. Because of that, she swallows her snot…which makes her throw up. Seriously, doesn't that sound gross? It freaked me out a few weeks ago when Abbie was fighting the sinus bug – she threw up every morning for like 6 days, but immediately afterward seemed to feel better. The nurse line at our pediatrician told me to dissolve some Culterelle in her purees to help settle her stomach. By the time I got it, she had stopped throwing up so much, but I've now got it in the house should it happen again. Weird, right?
Two: After a certain age, Abbie started to grab EVERYTHING. Abbie has earned the nickname "Grabby Abbie" in our house. Dad's glasses? Mine. Mom's hair? Pulls it (even get the hair underneath where it's pulled up). Mom's necklace? In my mouth please! This little girl is going to be a handful when she hits the "mine" phase!
Three: Pets are fair game too. Now that she's trying to move, Abbie frequently turns her attention to trying to grab the cats. Thankfully, ours are really tame, indoor-only cats, and they don't seem to mind too much. I used to tug on their tails a little when they were kittens just so they wouldn't mind it when a little one came along! Abbie's especially always grabbing Mischief's fur and pulling it towards her…thankfully we're always right there, and Missy rarely is upset by it.
Four: Abbie LOVES stairs. Not sure if this is the case with other babies too, but Abbie loves when we carry her up and down the stairs…so naturally, we now play into it by pretending to chase each other up the stairs…probably not the safest game in the world…
Five: She always cries when we're getting her dressed after her bath. EVERY night. It's ridiculous. I don't know if she does it because she's tired, or if it's because she knows bedtime is coming…but it happens every night like clockwork. Silly girl.
Any silly things about your little ones?