Time for Five on Friday…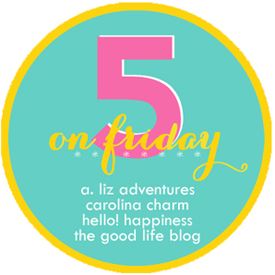 One:
I am struggling today. Abbie's sleep habits have been AWFUL for the last two weeks – averaging 3 wakeups/night. Plus, most of the time she only wants Mommy. I've forgotten what it feels like to sleep through the night! I'm hoping this is her teeth and they pop through soon…this mama is running out of patience!
Two:
I've fallen off the weight loss wagon – big time. I think it has a lot to do with the fact that I haven't gotten much sleep – I'm too tired to put the work into myself and all I want to do is sleep! I'm hoping to get back on this week.
Three:
This is the first weekend we haven't had definitive plans in a while. I'm looking forward to taking it easy…and possibly napping. (sensing a theme here?)
Four:
My sister starts classes of her sophomore year of college on Monday. She also bought her first car this week. When did she get so grown up?
Five:
I can't wait for fall. Bring on the sweaters and football season!
Have a great weekend!