Linking up with Kristin for Baby Talk!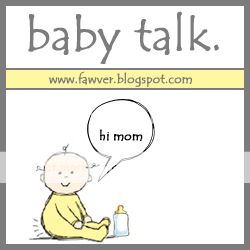 Now that I'm about 6 months out from giving birth (where the heck did 6 months go, by the way?), I feel like I have a bit of perspective…and can't help thinking about how I'll handle pregnancy next time. And NO, we're not having another one anytime soon! We do eventually want more children though, so here's what we're going to do differently or the same next time!
The announcement. This will obviously be different, and we'll definitely have Abbie do it somehow. I do like that we told family pretty early (I think it was about 8 weeks), and told our friends at 13 weeks. Since we had a miscarriage before Abbie, I didn't want to chance anything. We'll probably do the same timing next time.
My weight. Obviously, this is a very personal thing, but I would like to weight significantly less when we get pregnant again. Toward the end of my pregnancy and during labor, my weight started to cause issues, especially with my blood pressure, and I'd like to avoid those issues if I can.
Gender reveal. I LOVED that we announced Abbie was a girl at my baby shower, but I think it would have meant a lot to Chris to do something similar. For baby number two, I want to do a co-ed gender reveal party, especially since we probably won't have another baby shower – I got the gear gender-neutral on purpose!
The name. Chris and I had picked Abbie's name really early, and made the mistake of mentioning it to a few people…who then started referring to her by her name, before she was even here! I know a lot of people like to do this, but I'm superstitious and didn't like it one bit. What if something terrible had happened? I think this comes from being Jewish – really strict Jews are so superstitious they don't even bring baby gear into the house until a baby is born – typically a relative or the store holds everything, then delivers it all after the baby arrives. We also started to get opinions on her name and pressure to do other things…and I didn't like it. I felt guilty for wanting the name we did sometimes. So next time, mum's the word. We're not telling anyone baby number two's name until he or she arrives!
Work. I worked basically until the last minute with Abbie, and I'm so glad I did. I would have been stir crazy had I started my leave early…even though everyone at work kept asking me if I was still there…Um, don't you see me standing in front of you.
What did you learn from your pregnancy that you'll do differently/the same next time?
And because no post is complete without a picture of my little girl, here she is!